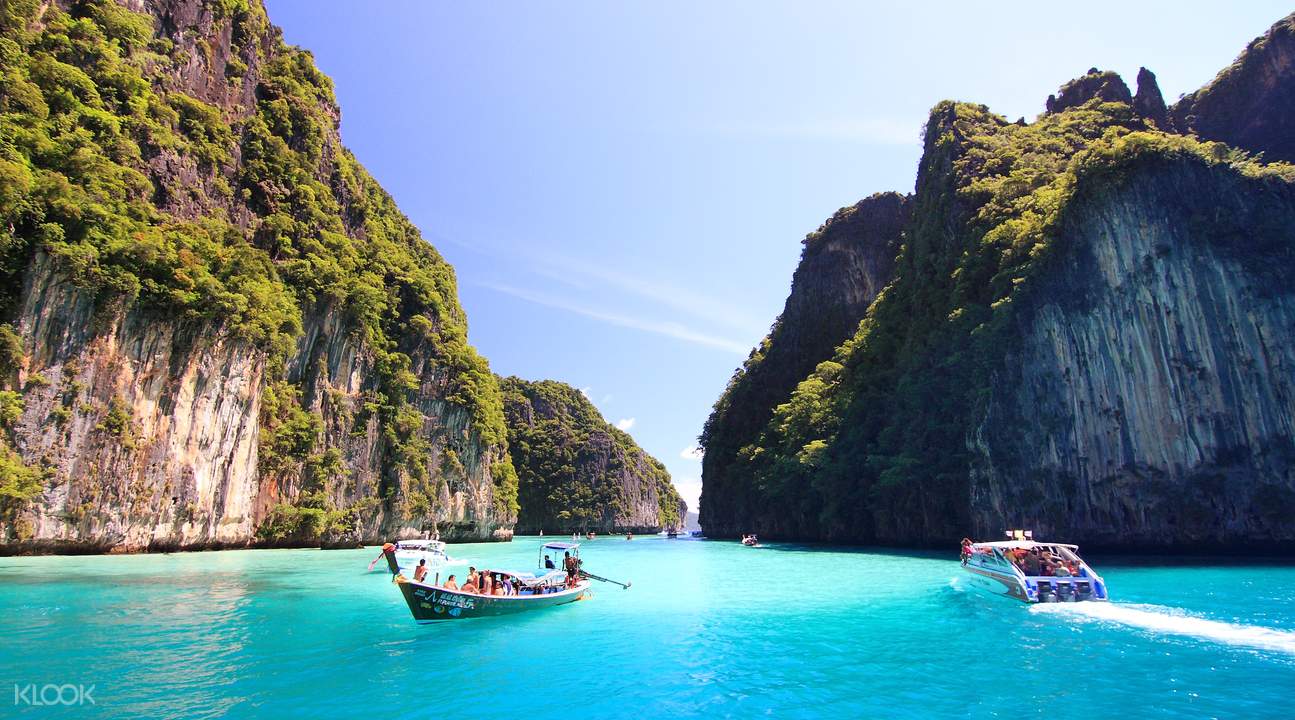 Phi-phi Islands, or in Thai called "Koh Phi-phi" is an archipelago located in the southern part of Thailand, 38 km from the direction of Krabi. Phi-phi Islands can be said to be one of the best destinations for tourists visiting Thailand.
Here are some spots on Phi-Phi Island that will make you amazed by its beauty.
Koh Phi Phi Leh & Maya Bay
Vertical cliffs are covered in stunning green leaves, as if fortifying small beaches and tropical coral seas, Koh Phi Phi Leh is the second largest uninhabited island in the Phi Phi islands. Inside is a beautiful beach called "Maya Bay"
So beautiful, Koh Phi Phi Leh has become a spot for one of the Leornado Dicaprio films "The Beach". The beautiful white beach with tropical plants, and the water is very clear, Koh Phi Phi Leh is the perfect place for snorkeling activities. You can also rent a boat to surround this amazing island.
Phi Phi View Point
Phi Phi Islands is basically a large island shaped like the letter "H".  Where the main village lives in its horizontal part or the center of the island. While both sides of the vertical island, are mountains and forests. Phi Phi View Point itself is located on the east side of the coastline.  Overlooking a village view and both beaches on the island side.
Located at an altitude of 186 meters.  It takes 20 to 30 minutes to reach the top of Phi Phi View Point. Here, you can get the best view to see Phi Phi Islands as a whole. Phi Phi View Point is also a suitable place for photography or resting. Because of the many small shops that sell food and drinks.
Bamboo Island
Koh Phai, or also called Bamboo Island, is one of six islands in the Phi Phi Islands. Bamboo Island itself is a small island with a width of 600-700 meters, where around the island is white sand, and in the middle of the island grows lush bamboo trees, making this island the perfect place for exotic holidays.
What makes Bamboo Island a more perfect place is the sea coast which has beautiful coral rocks, a paradise for those who like snorkeling. Besides having a mini bar that sells food and drinks, you can also stay by setting up tents on this island.
Viking Cave
A local legend tells of a long time ago, there were sailors who lost their way because they were hit by a storm. Causing them to be stranded in a cave under the cliff of Karst Phang Nga Bay. They then had to survive by eating swallow nests . Which turned out to have lived in the cave for a long time.
The cave is now called the Viking Cave, located under a high Karst cliff, it takes 30 minutes to reach it by a long boat from Tonsai Bay. There are lots of frescos here, and you can see the activities of local people looking for swallow nests here