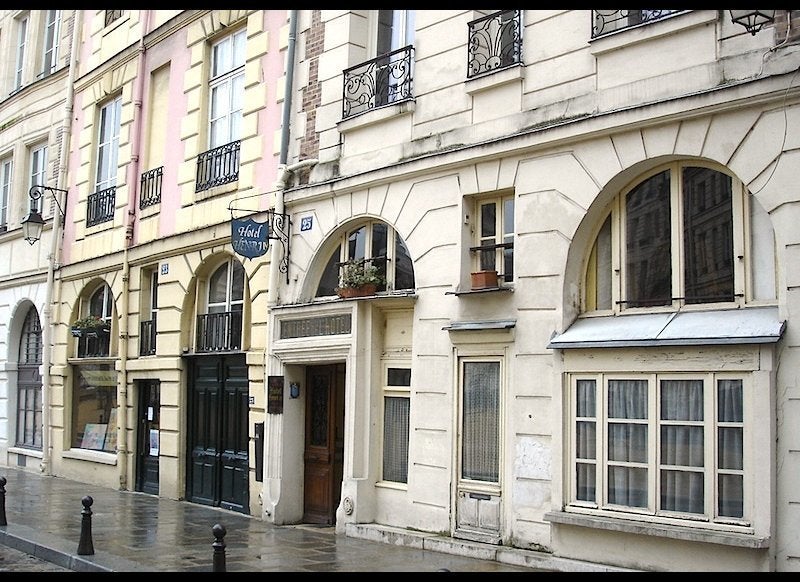 So far, Paris is synonymous as "the city of love". It is common knowledge that love is attached to romance, and romance is certainly not far from its business of money. In other words, romance is expensive, guys!
But, believe me. The romanticism of Paris is not exclusive to those who have an extra budget. Backpackers can also explore this city without having to worry about going over budget. Of course, as long as you know tips and tricks for making frugal tours to Paris. Especially for accommodation problems, backpackers can consider trying the following accommodations. Besides having good value, the following various budget accommodations have a pretty comfortable atmosphere and hotel facilities.
1. Smart Place Paris, Ready to Say Smart Backpackers with Parisian Hospitality.
Usually, budget accommodations have several "terms and conditions". For example, the value is cheap, but with a modest stay. Or, the value is cheap, but it is quite far if reached from public transportation. And there are still some other terms and conditions that may be commonly found by backpackers.
But, Smart Place Paris Hostel & Budget Hotel is different from other typical budget accommodations. In terms of atmosphere, this hostel has a pretty cool atmosphere. The facilities are also quite decent, because here guests will be spoiled by free WiFi, and can use existing computer devices in public spaces.
Other facilities that can be used by guests are a shared kitchen and game room. And most importantly, the distance is quite close to public transportation, which is about 100 meters from the Gare du Nord Metro and SNCF Train station.
Rooms in this hotel consist of dormitory type and private room. For dormitory types, capacities vary from 4, 6, up to 10 people / room (mixed / female only). As for private rooms, there are bunk bed types for 3 and 4 people, and there are also rooms with double mattresses.
2. Woodstock Hostel, Suitable for Backpackers who claim to be Funky and Gaul.
Of the many budget hotels in Paris, Woodstock Hostel is one of those that often gets high appraisals on various hotel booking sites. This hostel does have a good combination that is friendly to backpackers and budget travelers, as well as its strategic location. The hostel is only a 5-minute walk from Anvers Metro Station (line 2), 800 meters from Sacre-Coeur, and 1.3 kilometers to Opera Garnier.
In addition, Woodstock Hostel has a cool interior atmosphere. Some corners of this hostel are inspired by the cool and funky street art, while for the other rooms are designed with bright shades that refresh the eyes. The facilities are quite decent, one of which is a bar inside the hostel area. However, if you want to find other alternative places to eat, around the hostel area there are many bars and restaurants.
Rooms in this hostel only consist of dormitory types, with choices of type 2, 4, 6, and 10 people in one room. The rooms are designed with cheerful bright colors, so it doesn't seem like a budget hostel.
3. When Looking at the Paris Hostel Generator, You Might Be Hard To Believe If The Value Is Friendly.
This Paris Hostel Generator is like something too good to be true. because, this hostel has a complete package, starting from a strategic location, complete facilities, to a charming value.
The distance is only 900 meters from Gare de l'Est Metro Station, 700 meters from Buttes-Chaumont Park, and 5 minutes walk from Canal St Martin. Around the hotel area there are also many cool tourist spots, monuments, museums, and others.
Besides that, what makes this Paris Generator feel too good to be true, is its cool value. Actually, the normal value can start from EUR23 (for a shared room).
However, you will get the best offer if you book through various hotel booking sites. The value can go down to EUR19, the room type itself consists of a shared room (female only / mixed) with capacities varying from 8-10 people / room. While private rooms consist of Quad Room, Twin / double and Premium Terrace Twin types.
4. Looking for a Budget Hotel in the Heart of Montmartre? Consider Le Regent Montmartre.
One more cool budget hotel that you need to consider when traveling to Paris, namely Le Regent Montmartre. The hotel is located quite close to Gare du Nord, which is one of the biggest stations in Paris.
Around the hotel area there are many bars, pubs and cafes, as well as various other popular landmarks in Paris. Moulin Rouge, Pigalle and Sacré Cœur are only a part of it. In other words, the hotel is in a strategic position. Moreover, this hostel has a pretty neat interior atmosphere, making Le Regent Montmartre even more difficult to refuse.