An acquaintance who showed up at a couple's house hoping for free vacation accommodation is being blasted online.
User Grumpusaurus shared her shock with Mumsnet's Talk forum on September 2, after the woman—who she hasn't seen or heard from in years—randomly appeared at her front door with a suitcase, despite the poster clearly telling her "no" months before.
Most Irritating House Guest Behaviors
In 2016, HomeAdvisor asked 2,000 Americans what house guest habits annoy them the most. Indefinite stays and going through a host's personal belongings jointly topped the list, but showing up unannounced was a very close second.
Other common pet peeves included critiquing the host's home, bringing an additional guest, making a mess, smoking, and not following house rules.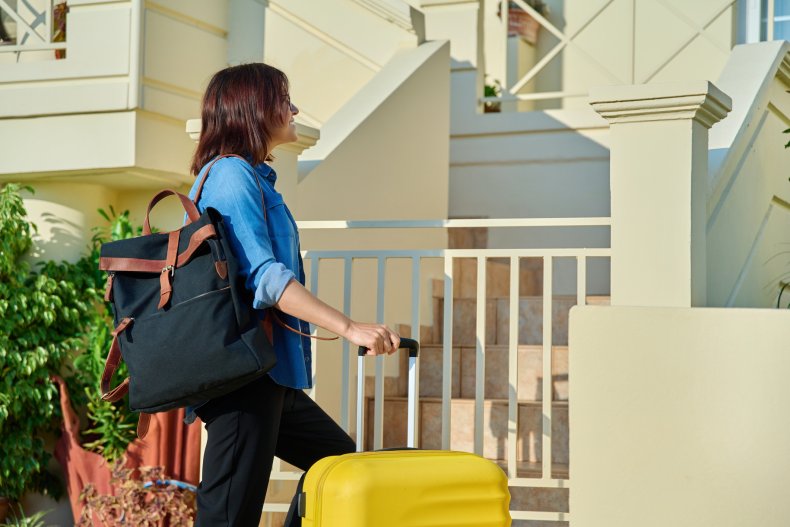 In her post, Grumpusaurus explained that she lives in a very popular tourist location with her husband and children. Over the years, multiple friends and acquaintances have tried to take advantage of this fact, and after numerous bad experiences she and her husband decided to stop allowing people to stay.
"Most seem to follow the same script by contacting us out of the blue and mentioning that it would be so lovely to see us," she wrote.
"I now answer in a very friendly manner that it has been years since we last heard from them and it would indeed be lovely to catch up over coffee in a nearby spot when they are in the area."
Until now, this technique has worked on potential guests, but one woman refused to take no for an answer.
"One acquaintance pushed back and asked to stay with us at the beginning of September," she said.
"I told her that this would not be possible, especially as we have a very tight deadline and will be working flat out to finish a commission."
As self-employed craftspeople, the poster and her husband explained they had an important order to finish, and would likely be working all day and night to complete the work in time.
The acquaintance didn't reply to the poster's message explaining the situation, so she assumed that was the end of it. That was until the acquaintance showed up at the couple's house with a suitcase two months later.
"The doorbell went this evening, I ignored it as [husband] and I were in the middle of working on our commission but someone kept pushing the bell," she said.
"Our property is an L-shape so you can see from our workshop who is at the front door. [The] acquaintance was standing there with a suitcase!"
The couple ignored her presence, but the woman kept ringing the doorbell. Next, the uninvited guest began sending Whatsapp messages, which they also ignored.
"There is no way I am going to let anyone railroad me into being their free accommodation and greatly inconveniencing us, especially while we literally get up to work all hours and fall into bed," she said.
"[Husband] is fretting about her coming back but I told him that we will just continue to ignore the doorbell."
'You Hero!'
Mumsnet users agreed that it was rude for the woman to turn up unannounced, with CuriousMama calling the uninvited guest "entitled."
"She has a lot of nerves," wrote Fraaahnces.
"Some people are just baffling," said MILLYmo0se.
"Who in their right mind turns up at someone's door with a suitcase (assume they are expecting to stay), after being told that it's not possible for them to stay?" asked TuxedoJunction.
"I'm really interested to hear what's in her messages."
Users also praised the poster's reaction, with Gooseysgirl dubbing it "utterly brilliant."
"You heroes!" Lucy agreed in the sky with rubies.
"Love that you just ignored her," commented DartmoorDonut.
While NlackCoffeeAndToast said: "I hope you had an amazing night's sleep, warm and comfy, surrounded by your strong boundaries."
Grumpusaurus isn't the only homeowner to deal with ridiculous vacation demands. Another Mumsnet user was recently praised for not allowing her "dim-witted" friends to stay in her new cottage rent-free, while a woman was slammed for inviting her sister and new-born niece to her friend's vacation home without checking with her pal first.
Newsweek wasn't able to verify the details of this case.
If you have a similar dilemma, let us know via [email protected]. We can ask experts for advice, and your story could be featured on Newsweek.